Ebooks
On this page you will find information on Up North Digital, Zinio eMagazines, Hoopla Digital, and ebook resources from the Michigan eLibrary.
E-books, E-Audios and more
Up North Digital

You may check out the Up North Digital content by following the link.

Walk-in sessions are available Monday, Wednesday, Thursday 3pm-6pm for help in downloading to your digital device.

Q: What is my PIN for digital books?

A: A number that you set up when you signed up for your library card. (If you do not remember what it is contact the library.)
Q: How do I return a book early?
A: Kindle:  On your Amazon account go to "Manage Your Kindle".  You will see a list of books that you own and are borrowed from the library.  You will need to go to the ACTION button on the right hand side of the screen from the book that you wish to return.  Click Return from the drop down menu.
Adobe Digital Editions(ADE):  Open ADE and click on the book that you wish to return.  In the left hand corner of the book you should see an arrow click on this.  It will give you a menu to return borrowed book.
Overdrive App:  Hold your finger on the book you wish to return.  A menu pops up that has Return to library, Delete, Share.  Touch Return to Library to return your book early.

If you have questions feel free to call 231-775-6541
or email April
   

Need some help with downloading?

Check out this website  Up North Digital Quick start guide

PDF of how to download to a mobile device.
PDF of how to Download to Kindle and also for returning books via Kindle.
Hoopla Digital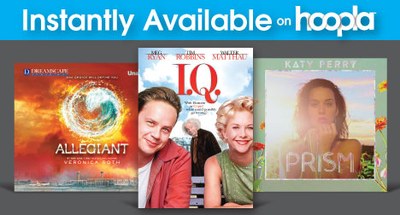 Borrow free video, music, and audiobooks with your library card.  Enjoy on your PC, tablet, or phone.
MeL Books and Reading Sources
Gale Virtual Reference Library

Michigan Authors and Illustrators