1,000 Books Before Kindergarten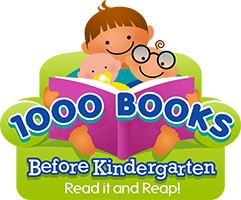 Goal is simple: read 1,000 books with your child before they hit kindergarten.
Sounds like a lot, huh?  Don't worry!
1 book a day for 3 years = 1096 books
3 books a day for 1 year = 1096 books
Join the program by signing up at the children's desk!  Get a log and cross off a symbol for each book you read - repeats count, books heard in storytime count, books read by family and friends count!
Win a prize for every 100 books you read and advance your raccoon token up the tree!
Star Reader's Wall