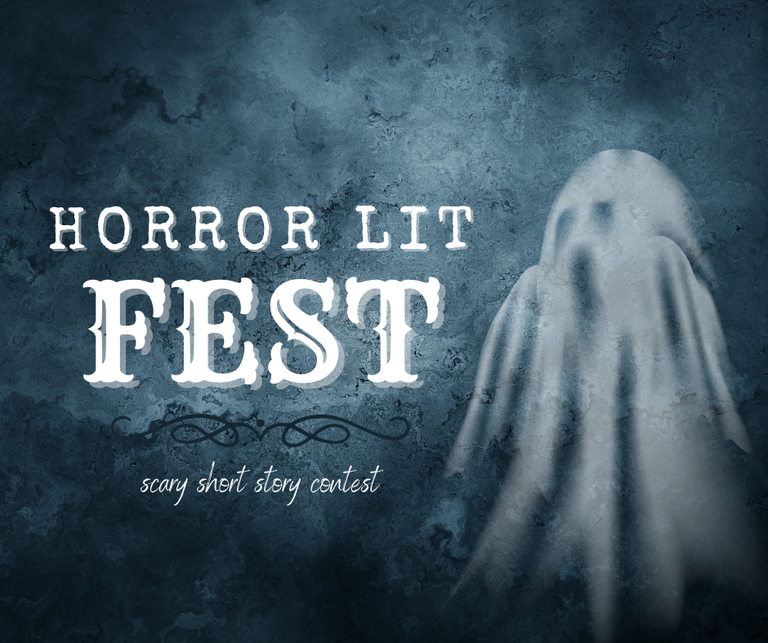 HORROR LIT FEST 2023:
SCARY SHORT STORY CONTEST
SUBMIT YOUR STORY BY OCTOBER 25, AGES 8+
Write a 3000 word maximum original scary short story and submit it along with a registration form in person or via email (teens@cadillaclibrary.org) by Wednesday, October 25th. Winners will be announced Saturday, October 28th. There are three prize categories: tween (8-12), teen (13-17), and adult (ages 18+). Permission to publish winning stories will be required at submission.
REGISTRATION FORM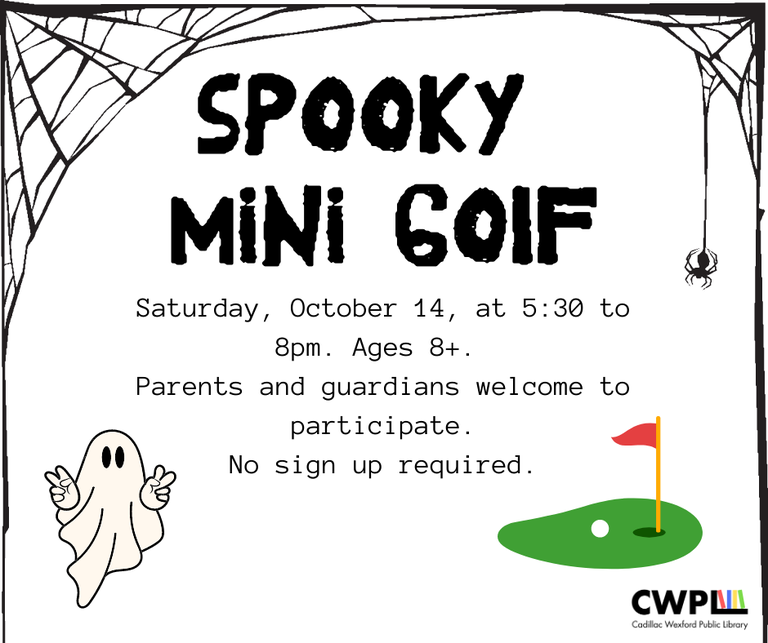 SPOOKY MINI GOLF IN THE LIBRARY
SATURDAY, OCTOBER 14, 5:30-8PM, AGES 8+
Come see the library transformed into a nine hole mini golf course! No sign up required - stop in anytime between 5:30 and 7:45pm and we'll set you up! Parents/ guardians are welcome to participate.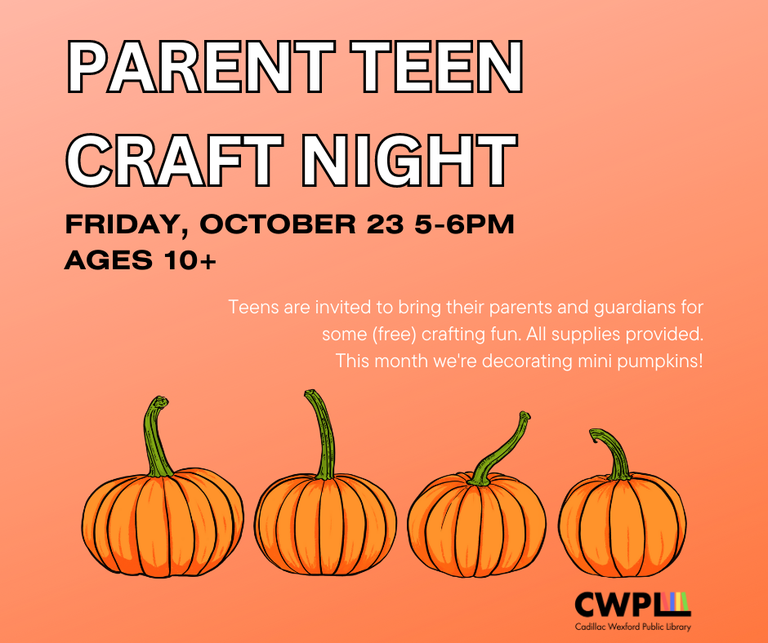 PARENT TEEN CRAFT NIGHT
FRIDAY, OCTOBER 27, 5-6PM, AGES 10+
Teens are invited to bring their parents and guardians for some (free) crafting fun. All supplies provided. This month we're decorating mini pumpkins!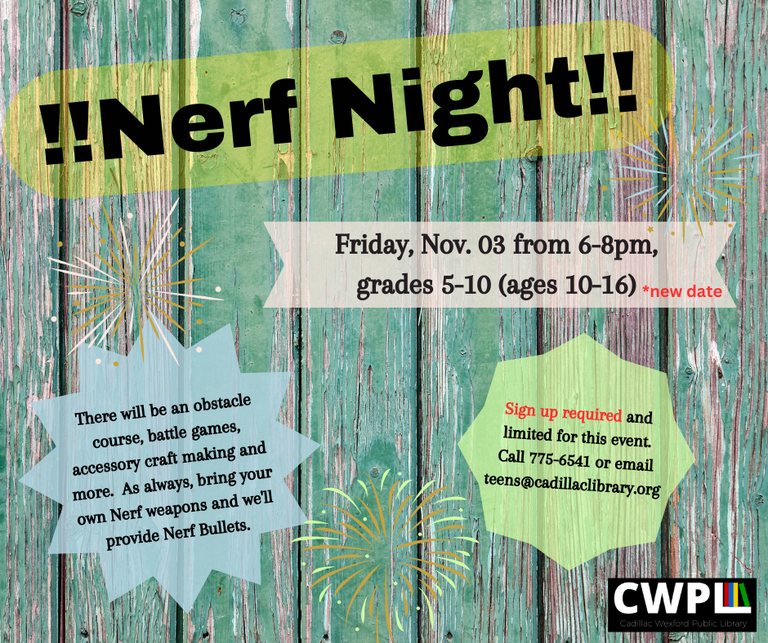 NERF NIGHT
FRIDAY, NOVEMBER 03, 6-8PM, GRADES 5-10 (AGES 10-16)
*NEW DATE
Join us for a Nerf extravaganza! There will be an obstacle course, battle games, accessory craft making, and more. As always, bring your own Nerf weapons and we'll provide Nerf bullets (we do have a limited supply of weapons as well).
SIGN UP REQUIRED AND LIMITED FOR THIS EVENT.
Call 775-6541 or email teens@cadillaclibrary.org.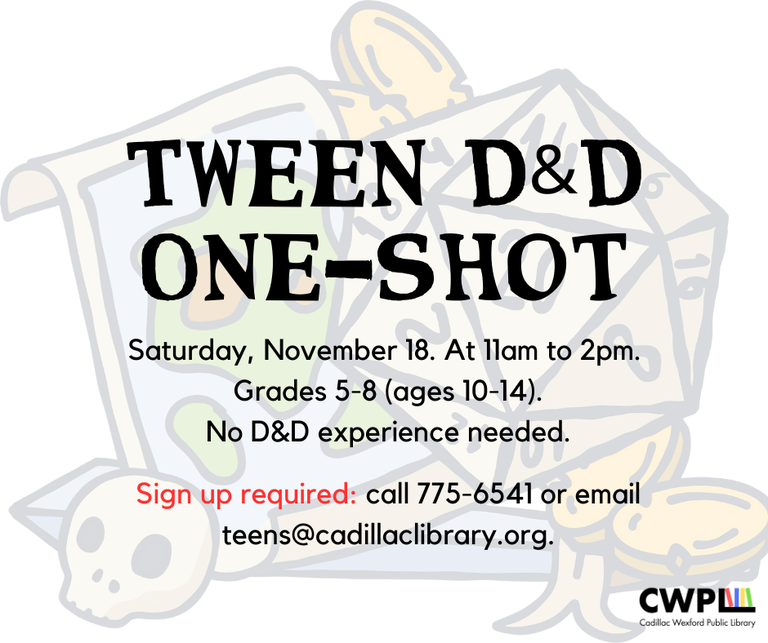 TWEEN D&D ONE SHOT
SATURDAY, NOV. 18TH, 11AM-2PM, AGES 10-14
Try our Dungeons & Dragons one-shot campaign! SIGN UP REQUIRED: Call 775-6541 or email teens@cadillaclibrary.org - space is limited. No previous knowledge needed.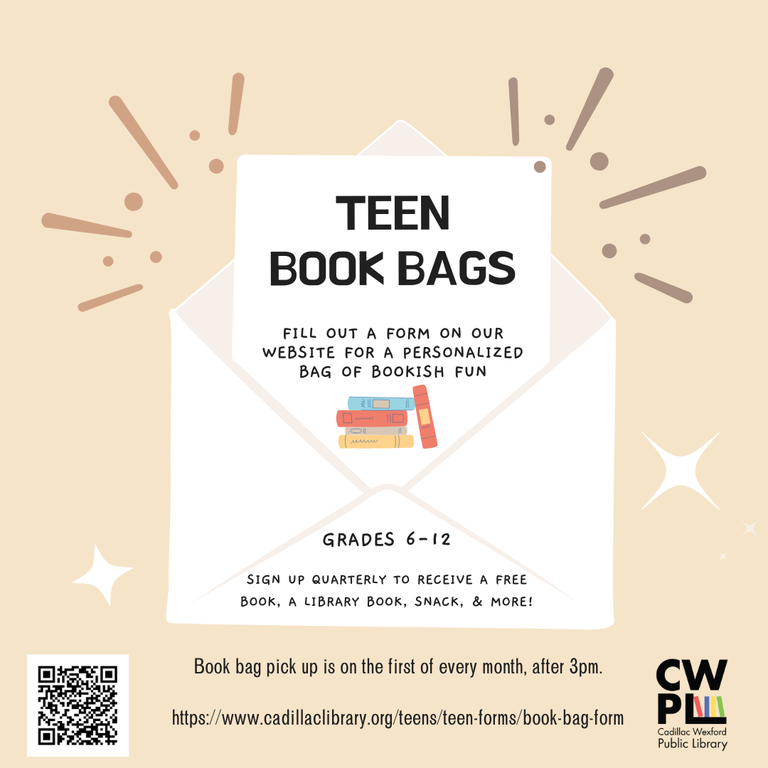 BOOK BAGS 2023
Our book bag is modeled after subscription box services like OwlCrate. Sign up quarterly to receive a monthly book bag filled with a free book, a library book, snack, and surprises!
Grades 6-12 (ages 11-19). 
How to sign up & receive your Book Bag: 
1. Fill out a Book Bag Form (to help us know what you like!):
BOOK BAG FORM
You only have to fill out this form once every quarter to sign up: 
December, January, February
March, April, May
June, July, August
September, October, November
Highlighted section is the current quarter - sign up any time during any month to receive a box! Just remember to fill out the form again at the start of a new quarter.
2. Pick up your Book Bag after 3pm on the 1st of the month (you'll have 14 days to pick up your bag). Enjoy!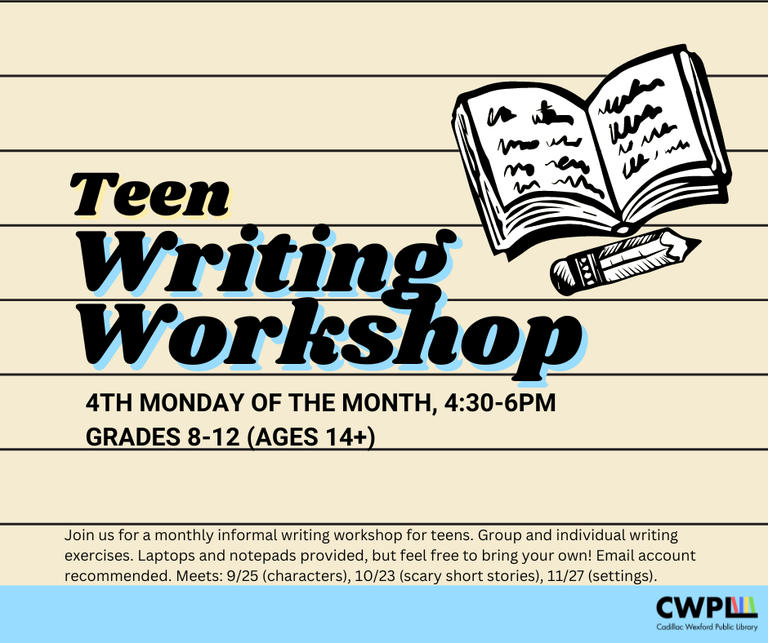 TEEN WRITING WORKSHOP
4TH MONDAY OF THE MONTH, 4:30-6PM, GRADES 8-12 (AGES 14+)
Join us for an informal writing workshop for teens. Group and individual writing exercises. Laptops and notepads provided, but feel free to bring your own! Email account recommended.
Meets: 9/25 (characters), 10/23 (scary short stories), 11/27 (settings), no meeting in December.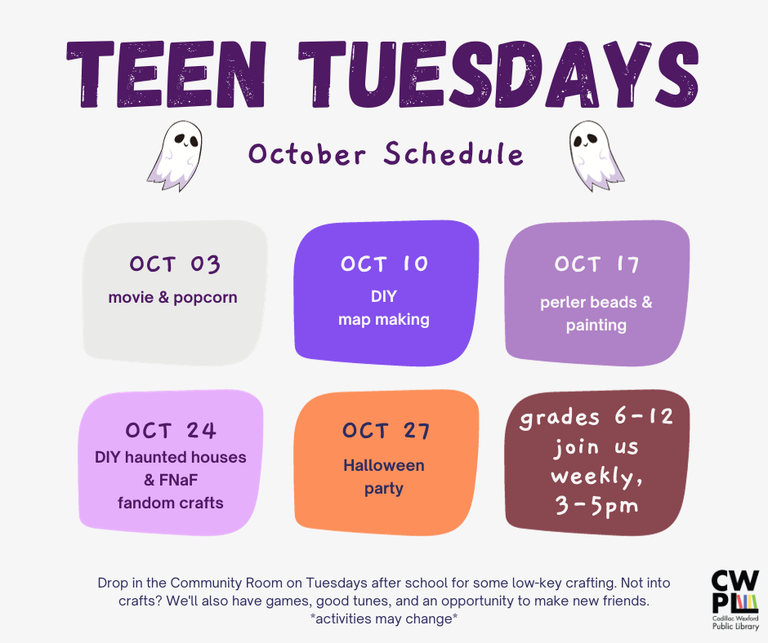 TEEN TUESDAYS
TUESDAYS, 3-5PM, GRADES 6-12
Drop in the Community Room on Tuesdays after school for some low-key crafting. Not into crafts? We'll also have games, good tunes, and an opportunity to make new friends. *activities may change*
October's Schedule:

10/03 movie & popcorn

10/10 DIY mapmaking

10/17 Perler beads & painting

10/24 Haunted Houses & FNaF fandom party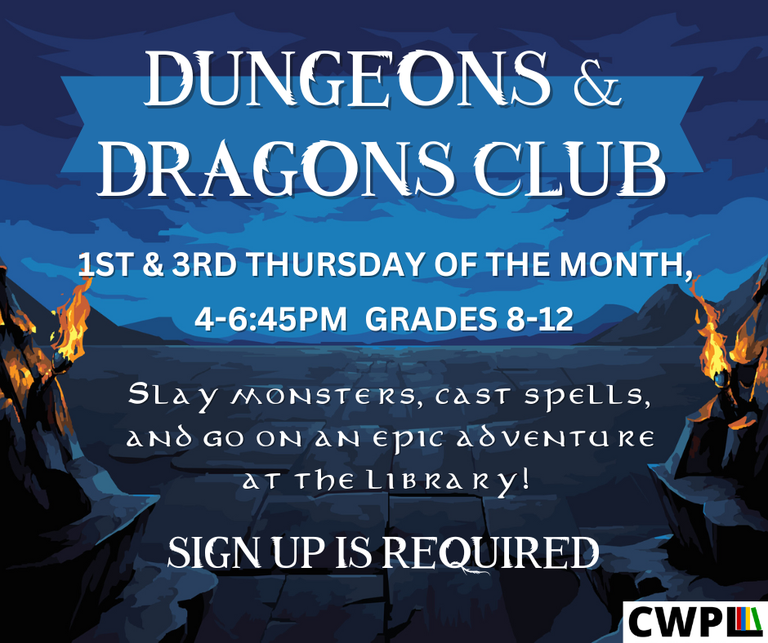 D&D CLUB
1ST & 3RD THURSDAY OF THE MONTH, 4-6:45PM, GRADES 8-12 (AGES 14+)
Slay monsters, cast spells, and go on an epic Dungeons and Dragons adventure at the library! Experience needed - email teens@cadillaclibrary.org for more information. Have a group but don't have the space to meet? Email us!