Join the MiLibraryQuest from February 1 to February 28.
Calling all Michigan teens:
The Winter MiLibraryQuest is Dungeons and Dragons themed.
Grab your sword and shield and get ready for a virtual adventure!
Solve riddles, take part in the quest, and enter to win a prize from your library.
or scan the QR code in the picture to get started: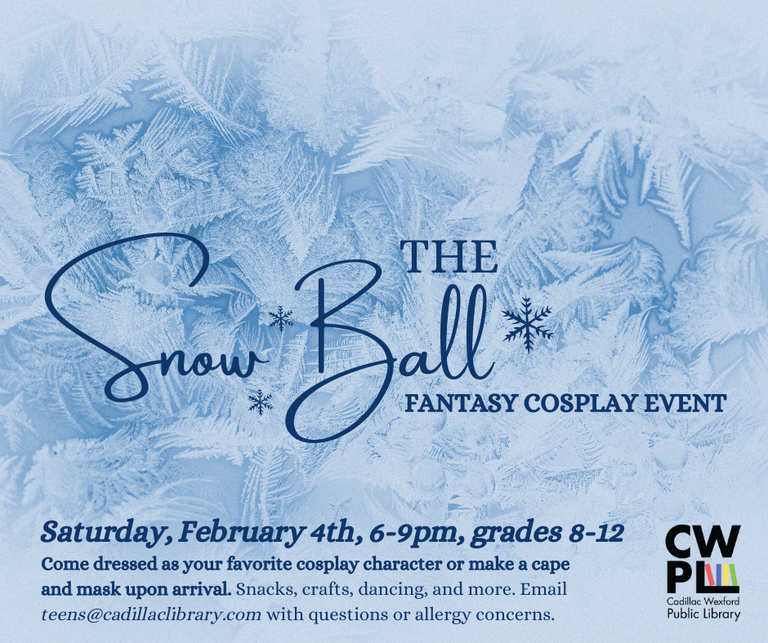 THE SNOW BALL: FANTASY COSPLAY EVENT
Saturday, February 4th, 6-9pm, grades 8-12
Come dressed as your favorite cosplay character or come as you are and make a cape and mask upon arrival. Snacks, crafts, games, dancing, and more. No sign up necessary.
Email teens@cadillaclibrary.org with questions.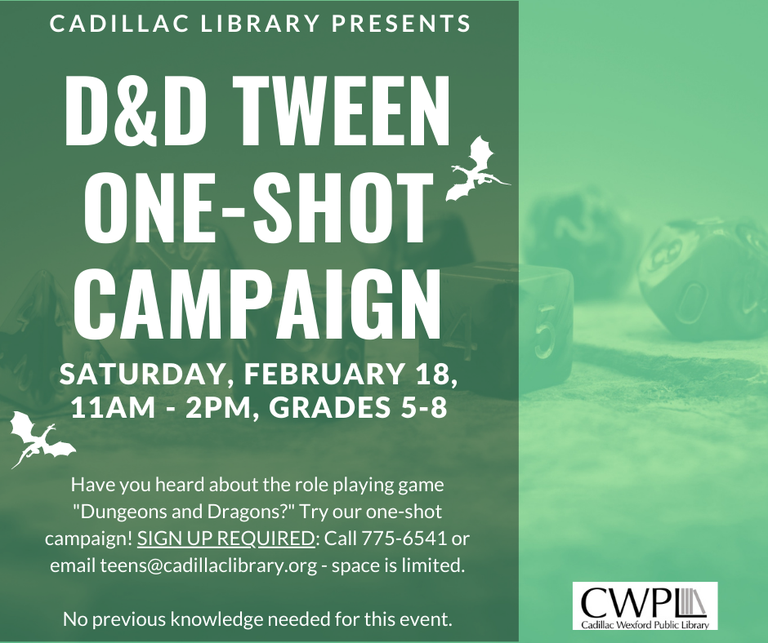 D&D TWEEN ONE-SHOT CAMPAIGN
Saturday, February 18th, 11am-2pm, grades 5-8
Have you heard about the role playing game "Dungeons and Dragons?" Try our one-shot campaign! SIGN UP REQUIRED: Call 775-6541 or email teens@cadillaclibrary.org - space is limited. No previous knowledge needed for this event.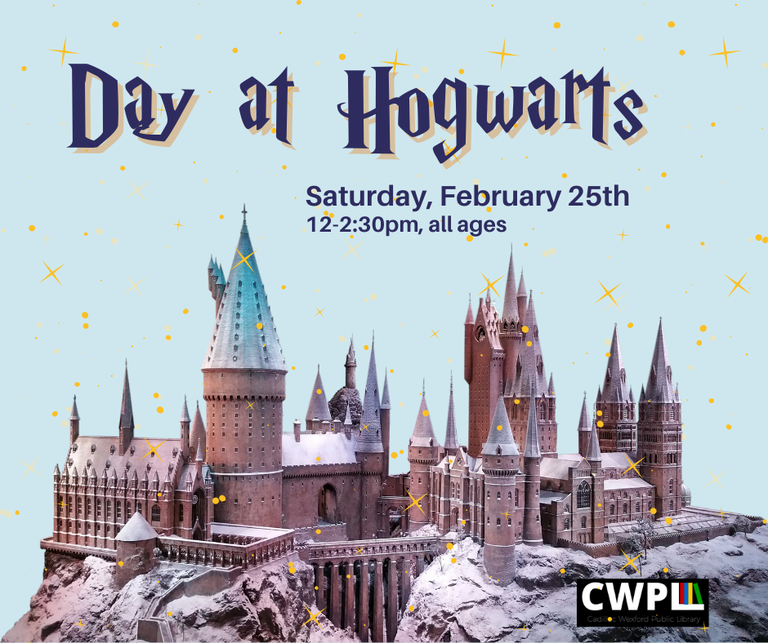 DAY AT HOGWARTS
Saturday, February 25th, 12-2:30pm, all ages
Join us for a day at Hogwarts and see the library transformed. Find crafts, the Sorting Hat, games and wizardry. Dress up as your favorite Harry Potter Universe character and be entered into a prize drawing!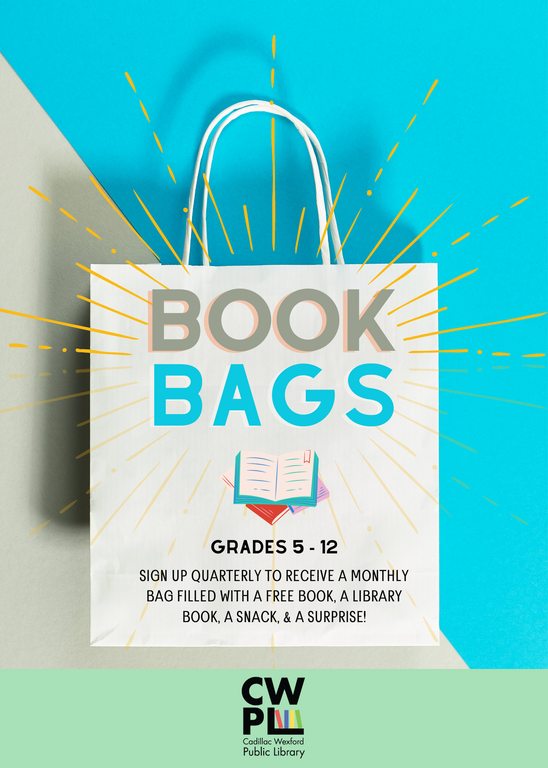 BOOK BAGS 2023
Our book bag is modeled after subscription box services like OwlCrate and our own book boxes of 2021. Sign up quarterly to receive a monthly book bag filled with a free book, a library book, snack, and a surprise! Grades 6-12 (ages 11-19). 
How to sign up & receive your Book Bag: 
1. Fill out a Book Bag Form (to help us know what you like!):
BOOK BAG FORM
You only have to fill out this form once every quarter to sign up: 
December, January, February
March, April, May
June, July, August
September, October, November
Highlighted section is the current quarter - sign up any time during any month to receive a box! Just remember to fill out the form again at the start of a new quarter.
2. Pick up your Book Bag after 3pm on the 1st of the month
(you'll have 14 days to pick up your bag). Enjoy!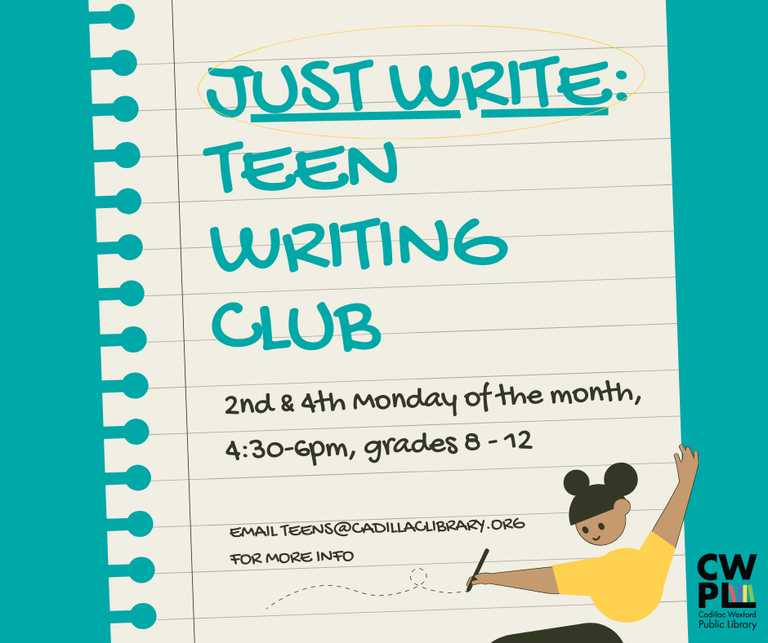 Just Write: Teen 

Writing Club
2nd & 4th Monday of the month, 4:30-6pm, grades 8-12
Join us for an informal writing workshop for teens. Be inspired to make writing a daily habit! Club meets twice a month. Activities range from writing prompts, group editing, doodling, and more. Email teens@cadillaclibrary.org for more information.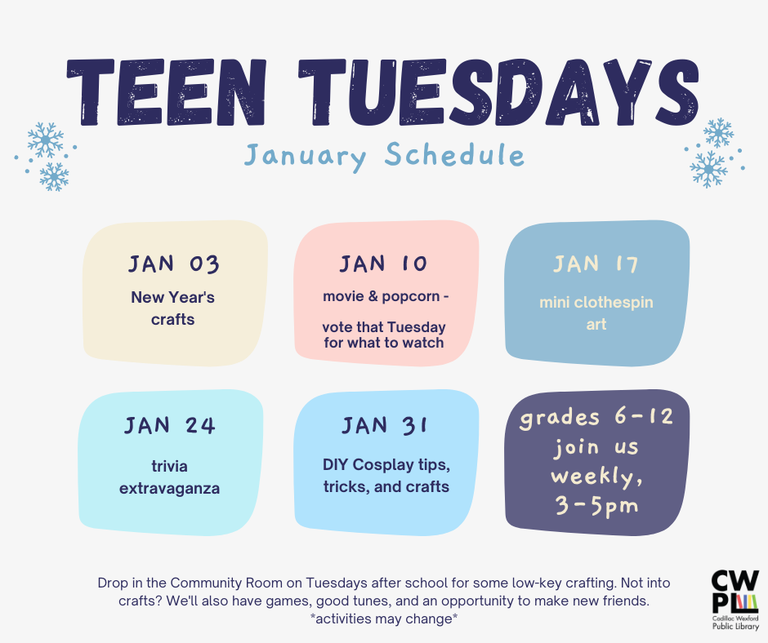 Teen Tuesdays
Tuesdays, 3-5pm, grades 6-12
Drop in the Community Room on Tuesdays after school for some low-key crafting. Not into crafts? We'll also have games, good tunes, and an opportunity to make new friends. *activities may change*
January Schedule:
Jan 3rd - New Year's crafts
Jan 10th - movies & popcorn (vote each Tuesday for what to watch)
Jan 17th - mini clothespin art
Jan 24th - trivia extravaganza
Jan 31st - DIY cosplay tips, tricks, and crafts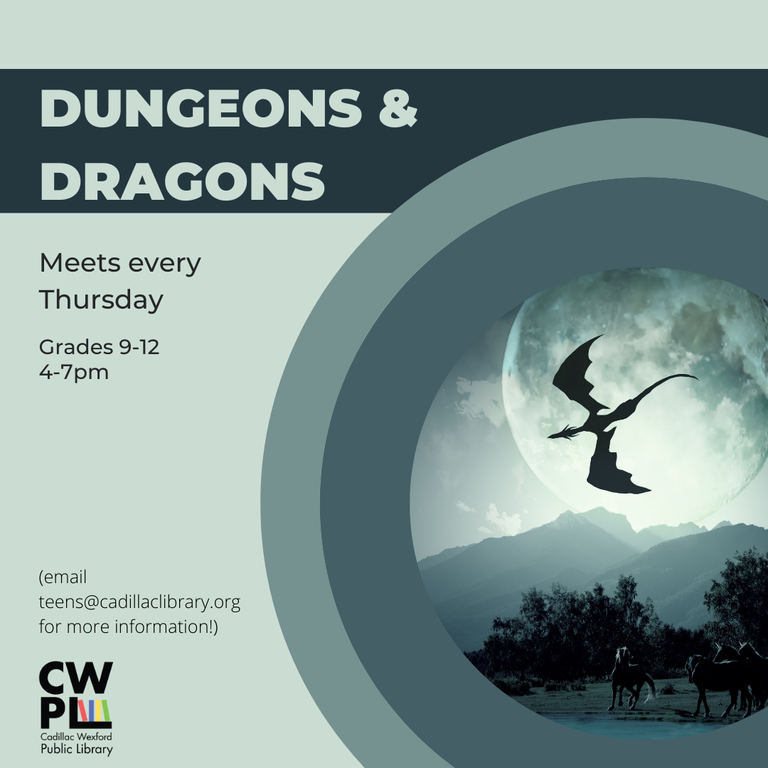 Dungeons & Dragons
Every Thursday, 4-7pm, grades 9-12
Slay monsters, cast spells, and go on an epic adventure at the library! Experience needed - email teens@cadillaclibrary.org for more information. Have a group but don't have the space to meet? Email us - teens@cadillaclibrary.org.