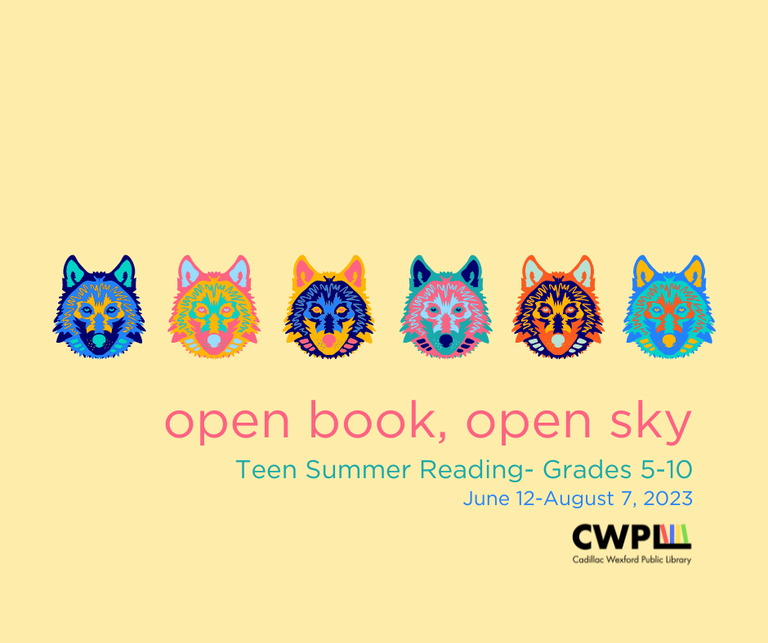 SUMMER READING 2023: OPEN BOOK, OPEN SKY
Grades 5 - 10
Record your reading from June 12th through August 7th! Read a book, listen to an audiobook, or complete an activity. Fill out a ticket online or in person. Drop it in our drawing. Watch for fun activities and special Teen Tuesday events. Turn in 15 tickets to be entered into our grand prize drawing & invited to our library lock-in on August 12!
This year's all ages summer reading program is camp themed. Join us for reading, programs, and prizes for all ages.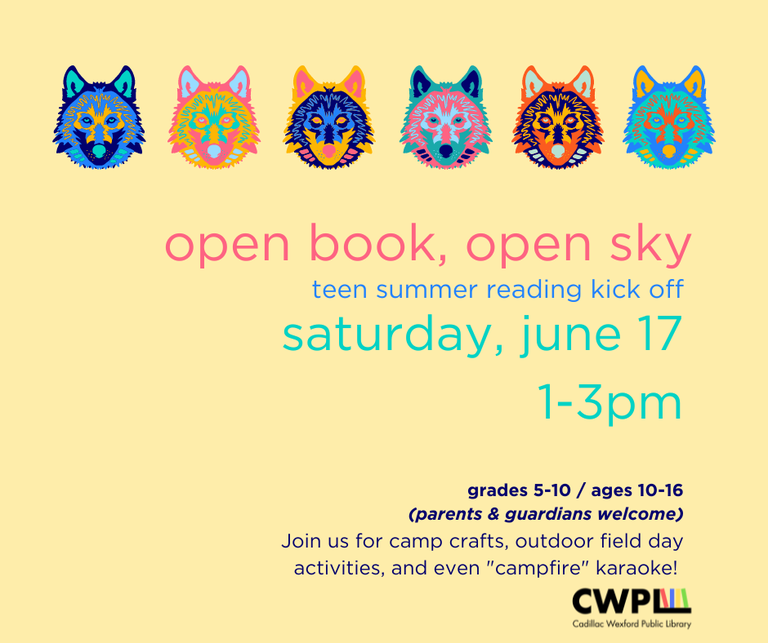 OPEN BOOK, OPEN SKY SUMMER READING PROGRAM EVENT
Saturday, June 17th, 1-3pm, grades 5-10
Join us for our teen summer reading kick off event! We'll have camp crafts, outdoor field day activities, and even "campfire" karaoke!
Parents/ guardians are welcome to participate.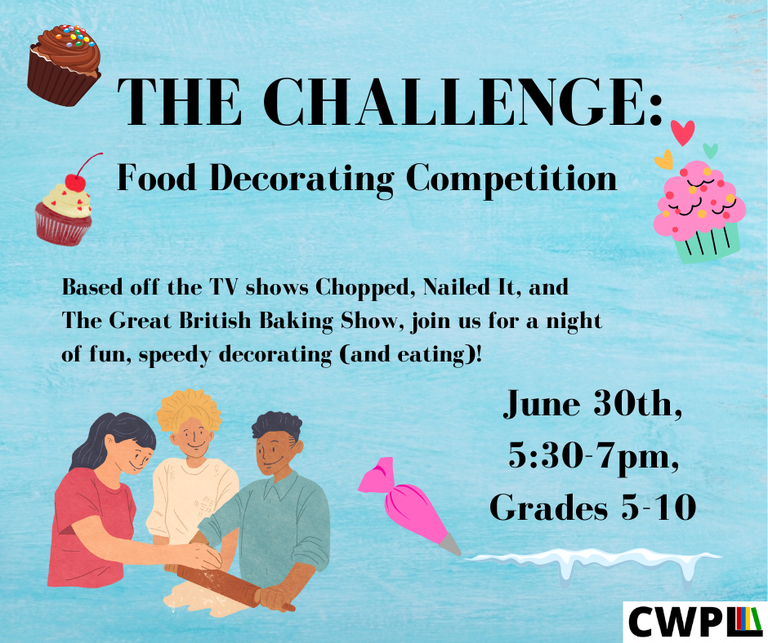 THE CHALLENGE: FOOD DECORATING COMPETITION
Friday, June 30th, 5:30-7:30pm, grades 5-10
Based off the TV shows Chopped, Nailed It, and The Great British Baking Show, join us for a night of fun, speedy decorating (and eating)!
Parents/ guardians welcome to stay and watch. ~ this event has changed dates! ~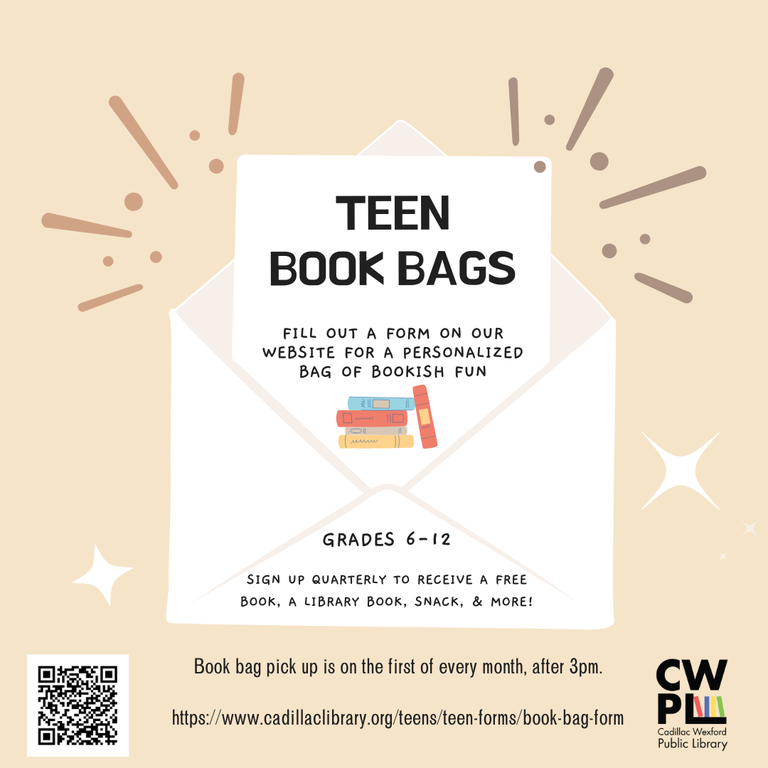 BOOK BAGS 2023
Our book bag is modeled after subscription box services like OwlCrate. Sign up quarterly to receive a monthly book bag filled with a free book, a library book, snack, and surprises! Grades 6-12 (ages 11-19). 
How to sign up & receive your Book Bag: 
1. Fill out a Book Bag Form (to help us know what you like!):
BOOK BAG FORM
You only have to fill out this form once every quarter to sign up: 
December, January, February
March, April, May
June, July, August
September, October, November
Highlighted section is the current quarter - sign up any time during any month to receive a box! Just remember to fill out the form again at the start of a new quarter.
2. Pick up your Book Bag after 3pm on the 1st of the month
(you'll have 14 days to pick up your bag). Enjoy!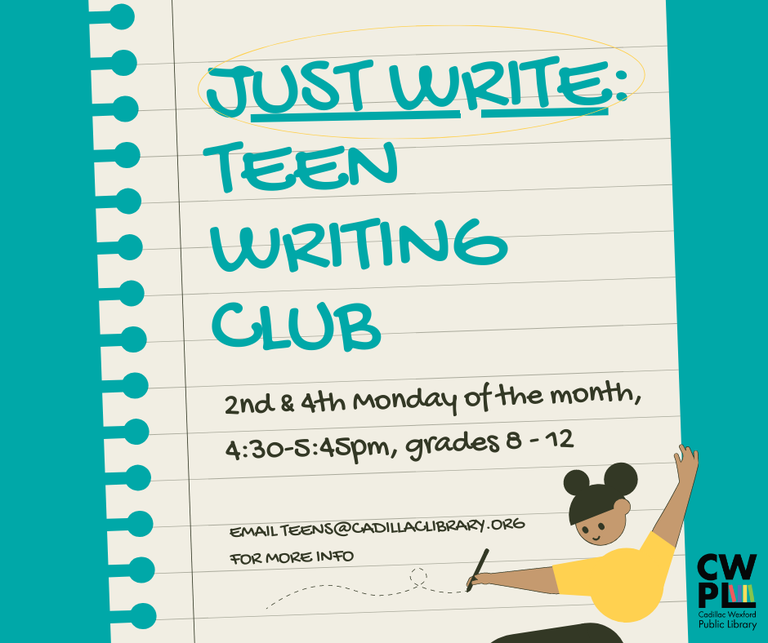 Just Write: Teen 

Writing Club
2nd & 4th Monday of the month, 4:30-5:45pm, grades 8-12
Join us for an informal writing workshop for teens. Be inspired to make writing a daily habit! Club meets twice a month. Activities range from writing prompts, group editing, doodling, and more. Email teens@cadillaclibrary.org for more information.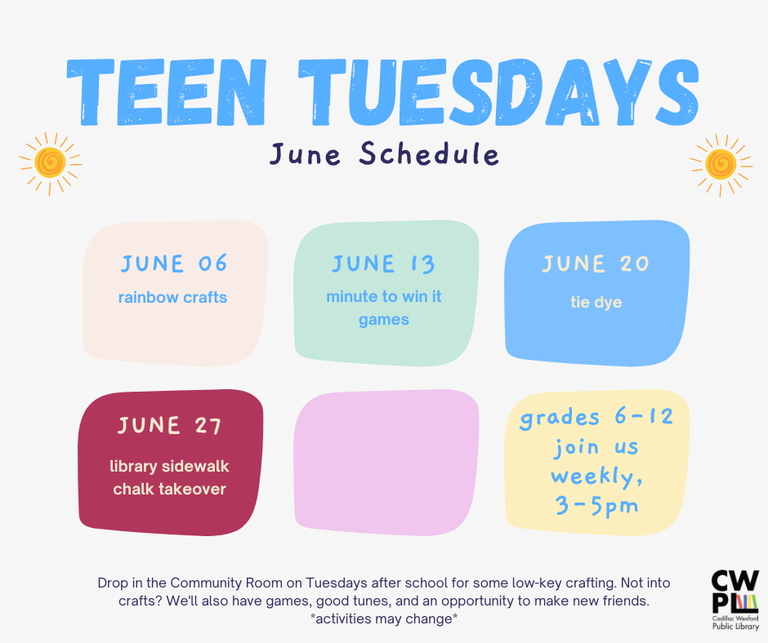 Teen Tuesdays
Tuesdays, 3-5pm, grades 6-12
Drop in the Community Room on Tuesdays after school for some low-key crafting. Not into crafts? We'll also have games, good tunes, and an opportunity to make new friends. *activities may change*
June Schedule:
June 6th - rainbow crafts
June 13th - minute to win it games
June 20th - tie dye
June 27th - library sidewalk chalk takeover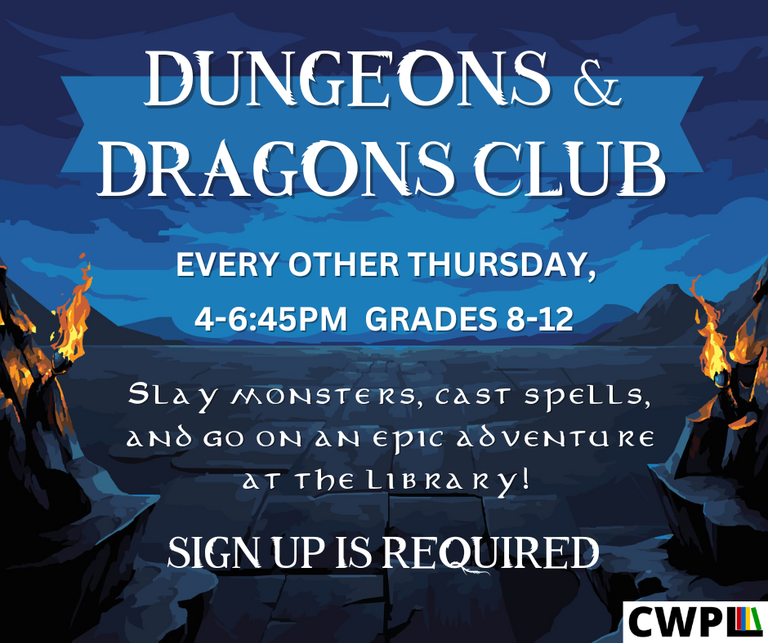 Dungeons & Dragons
Every other Thursday, 4-6:45pm, grades 9-12
Slay monsters, cast spells, and go on an epic adventure at the library! Experience needed - email teens@cadillaclibrary.org for more information. Have a group but don't have the space to meet? Email us!