D&D One-shot Campaign
Saturday, October 15th, 11am-2pm, grades 5-9
Have you heard about the role playing game "Dungeons and Dragons?" Try our one-shot campaign! We'll have ready made characters so all you have to do to sign up is call 775-6541 - space is limited. No previous knowledge needed for this event.
Horror Lit Fest 2022
Thursday, October 27th - Saturday, October 29th, ages 13+
Starting Thursday, stop by the library for a celebration of all things horror! 80s Thriller Movie Night Thursday, STRANGER THINGS Trivia Night on Friday, and a STRANGER THINGS Escape Room on Saturday. Throughout the weekend there will be a library-wide scavenger hunt, an interactive guessing game, take home DIY STRANGER THINGS stickers, and more. Head to our Facebook and Instagram accounts for some horror movie trivia and book suggestions. Don't miss our horror film and book displays throughout the library!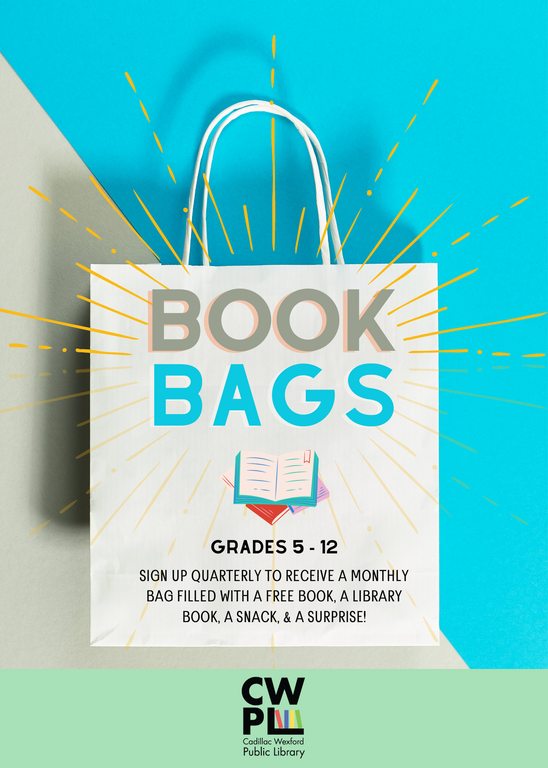 BOOK BAGS 2022
Our book bag is modeled after subscription box services like OwlCrate and our own book boxes of 2021. Sign up quarterly to receive a monthly book bag filled with a free book, a library book, snack, and a surprise! Grades 5-12 (ages 10-19). 
How to sign up & receive your Book Bag: 
1. Fill out a Book Bag Form (to help us know what you like!):
BOOK BAG FORM
You only have to fill out this form once every quarter to sign up: 
December, January, February
March, April, May
June, July, August
September, October, November
Highlighted section is the current quarter - sign up any time during any month to receive a box! Just remember to fill out the form again at the start of a new quarter.
3. Pick up your Book Bag after 3pm on the 1st of the month
(you'll have 14 days to pick up your bag). Enjoy!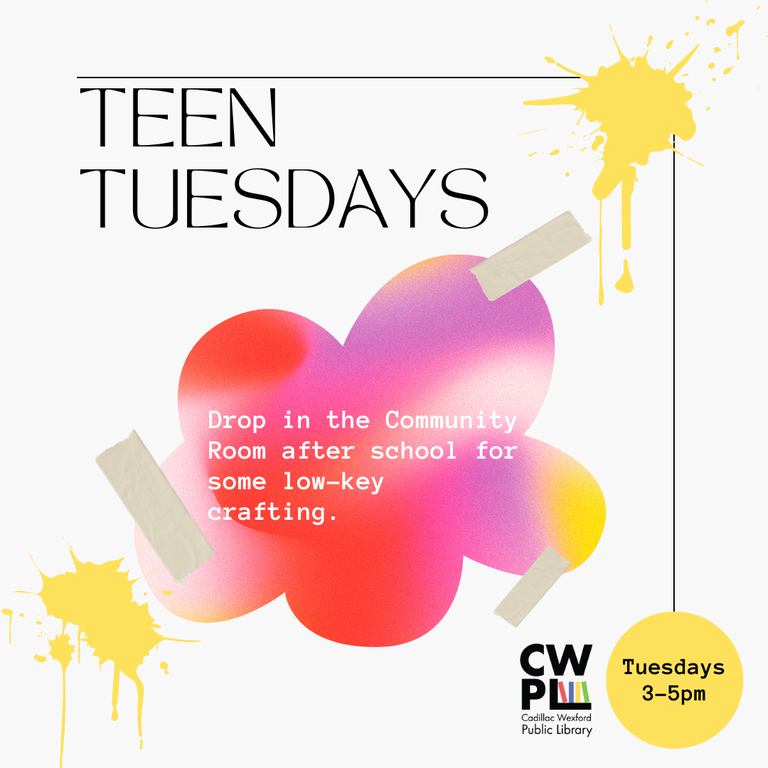 Teen Tuesdays
Tuesdays, 3-5pm, grades 5-12
Drop in the Community Room on Tuesdays after school for some low-key crafting. Not into crafts? We'll also have games, good tunes, and an opportunity to make new friends.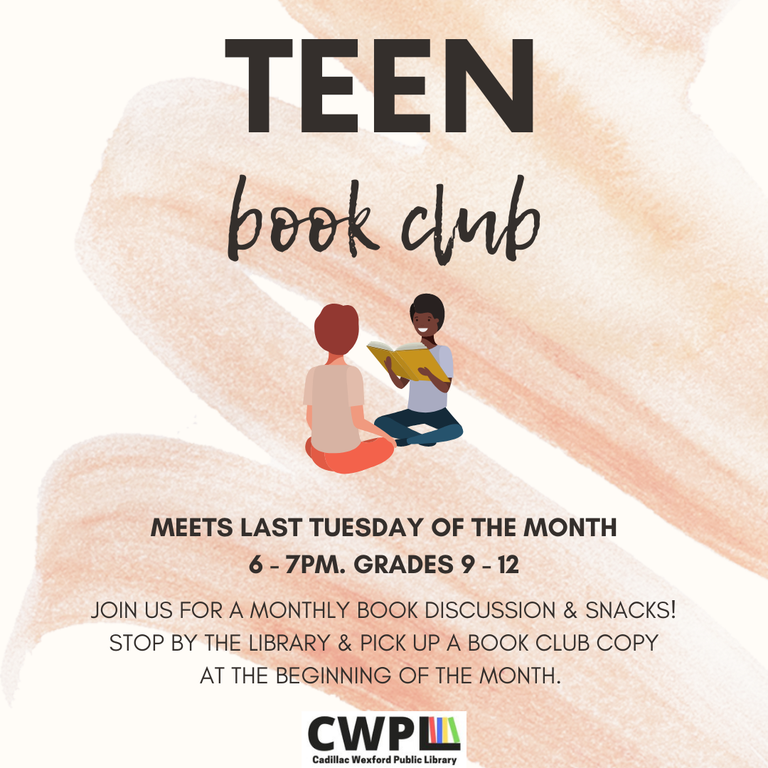 Teen Book Club
Last Tuesday of the month, 5:30-7pm, grades 9-12
Meet monthly with other teens who love books (& snacks) as much as you do! This month we're focusing on thriller & horror stories - you have two books to choose from. You can read the novel The Cellar by Natasha Preston (available as an ebook on the Hoopla Digital and Libby apps, a physical copy at the library, or through MeLCat) or the graphic novel Through the Woods by Emily Carroll (available as a physical copy at the library or through MeLCat). Have a favorite thriller or horror story you'd like to share? Come and join our discussion! Meets 10/25.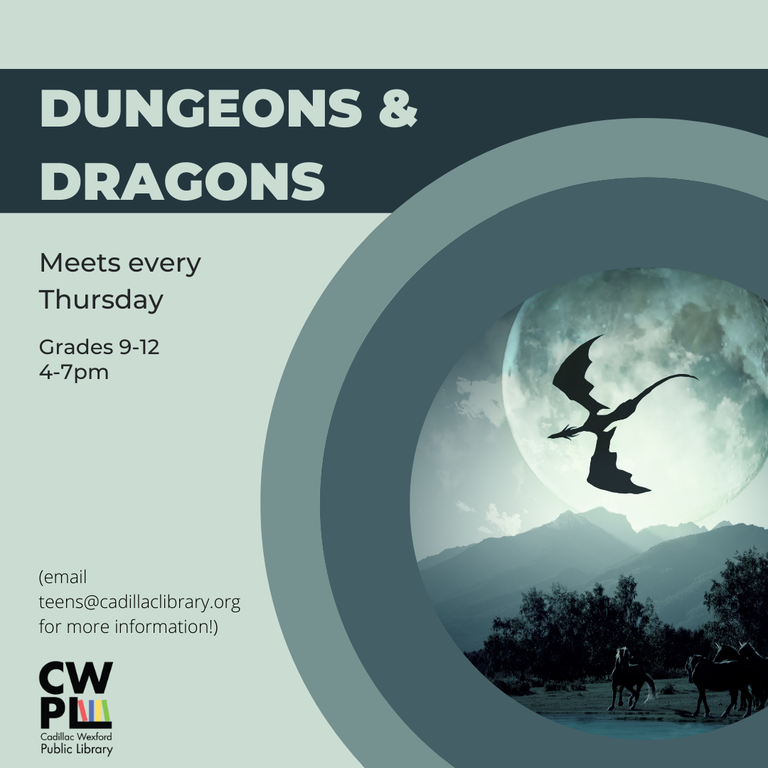 Dungeons & Dragons
Every Thursday, 4-7pm, grades 9-12
Slay monsters, cast spells, and go on an epic adventure at the library! No experience needed. Our current campaign is open! Email teens@cadillaclibrary.org for more information. Have a group but don't have the space to meet? Email us - teens@cadillaclibrary.org. (no meeting 10/6, 10/13.)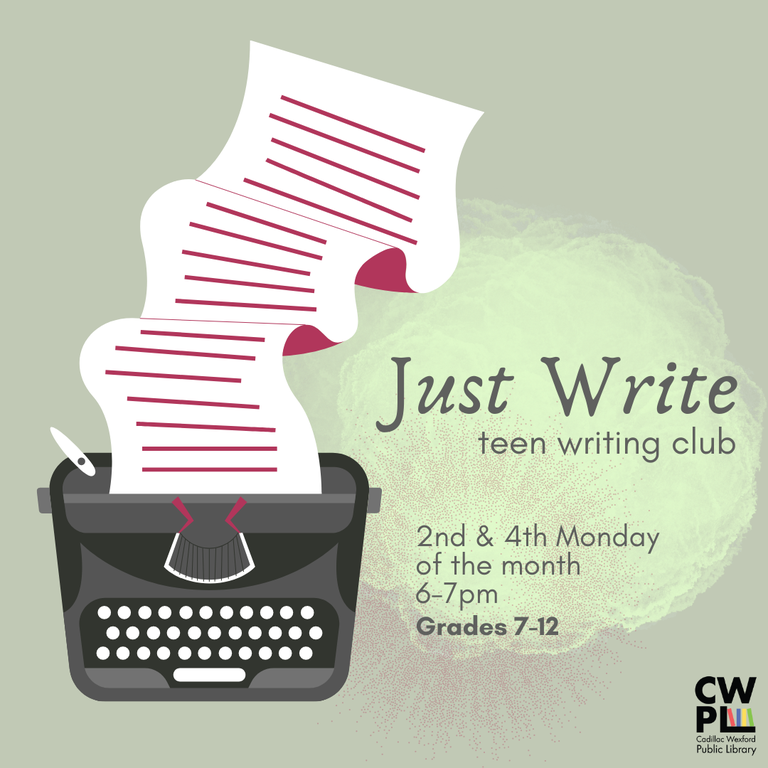 Just Write: Teen 

Writing Club
2nd & 4th Monday of the month, 5:30-7pm, grades 7-12
Join us for an informal writing workshop for teens. Be inspired to make writing a daily habit! Club meets twice a month. Activities range from writing prompts, group editing, doodling, and more. Email teens@cadillaclibrary.org for more information. Meets 10/24 (no meeting 10/10).